Preventing facility shutdowns through effective sanitation programs
Food sanitation is crucial for quality, public health, and compliance. We identified overlooked areas, emphasizing proper sanitation beyond the production line.
Our solution simplified food manufacturers' job through storytelling and a product portfolio, reducing the risk of illness, facility shutdowns, and reputation damage.
Problem
Effective food sanitation practices are essential for maintaining the quality and safety of food products, protecting public health, and ensuring compliance with regulatory standards. Manufacturers main focus is cleaning-in-place practices, but what about the rest of the facility?
Sanitation is just as important in the rest of the facility as the production line. That's where Veritiv can help identify those problem areas that might not be the main focus or as obvious. Those hidden areas also have to adhere to the same strict sanitation guidelines as the production line to prevent the spread of foodborne illnesses. The facility can be shut down for time when the guidelines aren't followed一costing the manufacturer money and reputation.
Our target was the procurement and buyer leaders within food manufacturers
In charge of purchasing sanitation products

Overwhelmed by maintaining facility sanitation program

Non-production line sanitation in secondary focus, often neglected due to other priorities

Keep costs down
Solution
Cleaning and sanitation can be complicated. Our solution was how can we simplify to make the food manufacturers' job easier. We decided to approach this problem with digital visual story and a focused product portfolio.
Our objective is to create repeatable successes by logging 25 new customer wins in 2023. By enacting the below, we should obtain our goal this year.
Bring awareness to a commonplace issue in the food manufacturing industry
Bring awareness to issues and solutions around facility sanitation

Promote a consolidated product portfolio sampling

Develop content, interactive landing page and additional support materials to tell the story of successful sanitation program

Use consultative approach to customize a sanitation program that aligns with the manufacturer's goals

Reduce complexity and waste. One program to support all.

Understand that Veritiv's strength is not in "cleaning-in-place" but in supporting the rest of facility's sanitation program
Prepare food packaging specialists on new materials
Equip food packaging specialists with a program to help them get into prospects' door. Food manufacturers can be difficult to change suppliers.

Train food packaging specialists on consolidated program that's easy to understand and communicate
Tools
Adobe XD

Ceros

InDesign

Salesforce
Team
1 Lead Creative

1 Copywriter

1 Project Manager

1 Marketing Manager

Team of Category Managers
My Role
Creative Lead

UX & Visual Design

Graphic Design

Development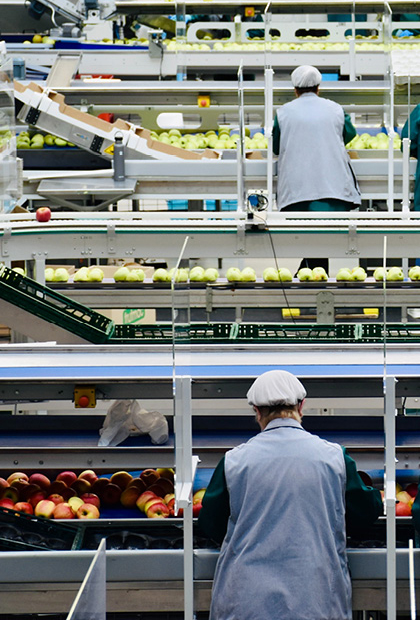 Discovery
During our brainstorm, we reviewed onsite visit photographs of common issues and the ideal sanitation procedure. How can Veritiv and their specialists bring facility sanitation into focus?
By helping our customers' recognize the issues that have become secondary and neglected, our specialists can create a custom sanitation program that will not overwhelm.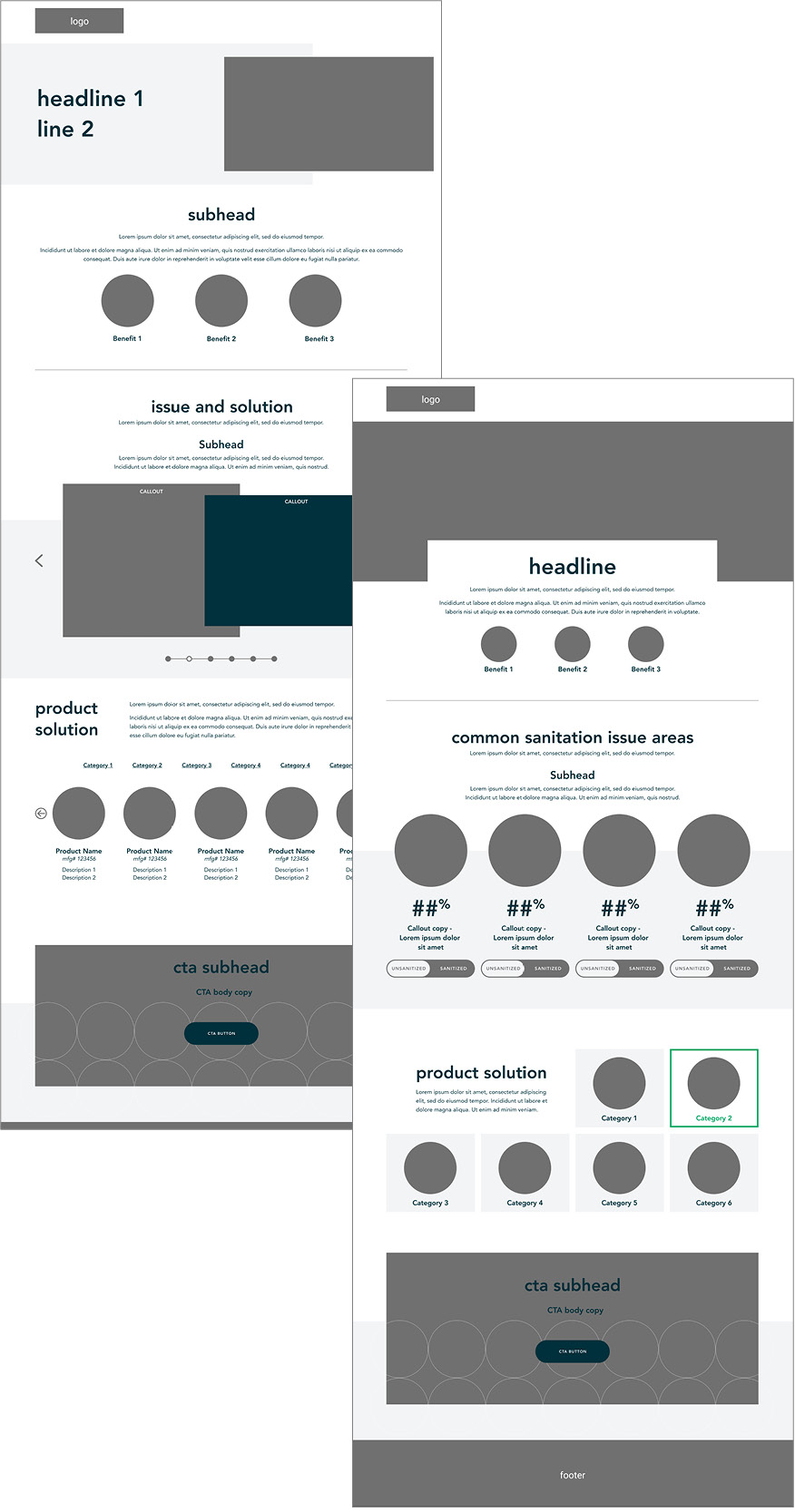 Ideation
I wireframed a landing page using a storytelling approach. By using storytelling, we can help guide the customer to recognize those hidden issues.
Brief Veritiv introduction and its benefits connected to pain points

Outline of common sanitation issues paired with solutions

Consolidated product portfolio
Since this project will have iterates throughout the year to its product portfolio, digital for efficient updates was the way to go and cost savings.
A leave behind flier and Salesforce email template will also be created to pair with this landing page.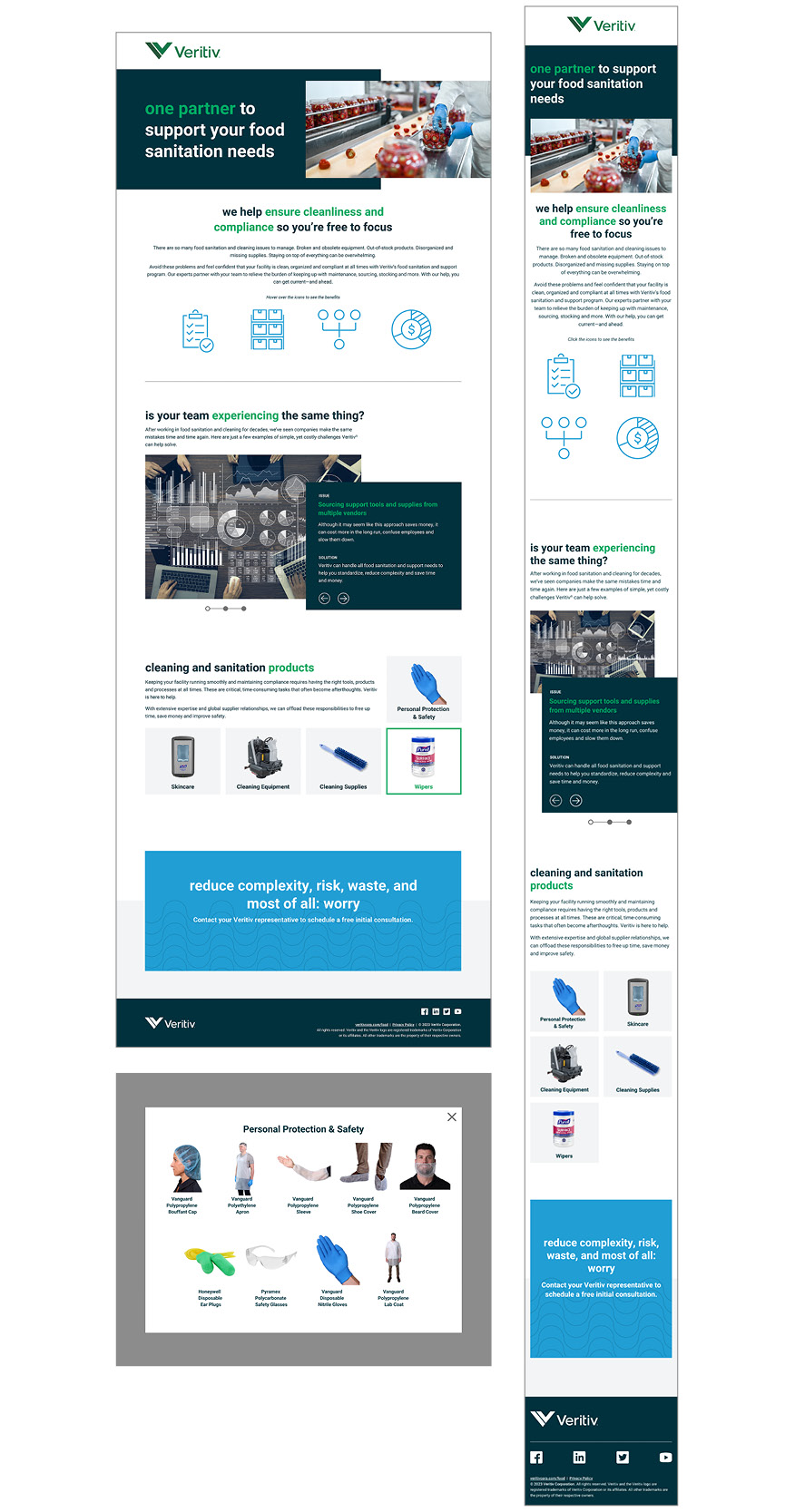 Execution
Using Adobe XD, I translated my wireframes into prototypes. I collaborated with our category management team to include the correct product data and imagery that would most resonate with this audience's needs. Once prototypes were reviewed, I developed the landing page in Ceros, an interactive content platform.

Launch
The launch began by introducing the new digital-first materials to the sales force. A training program was implemented to facilitate the adoption of these new selling methods.
Initially launched exclusively to the sales team, we witnessed high engagement and significant results within 30 days. This launch increased brand awareness and sparked multiple conversations with food manufacturing customers.
Next Steps
To sustain the momentum initiated by the initial sales launch, there are several outbound marketing opportunities available to support the 2023 objectives:
A LinkedIn social post series focusing on issue and solution-based content.

Print and digital advertisements in industry publications.

Integration of content with the new digital commerce platform upon its launch.