Crafting the narrative for Veritiv's new high-growth audience.
Veritiv identified an opportunity with a new high-growth market. This project kicked off a deep dive into this audience and how Veritiv can best help them.
Veritiv wanted to be recognized as the leading total packaging solutions provider in the food and beverage industry.
After its February 2022 launch, the food packaging campaign was linked to almost $1.5 million in opportunities by the end of the year.
Problem
Food waste and safety are substantial issues in the U.S. and worldwide. Billions of pounds are thrown out each year creating not only food waste but money waste. Safety and sanitation are top of mind to keep food fresh and business up and running. Veritiv identified an opportunity to support its audience through its holistic packaging offering—from concept to delivery.
Veritiv wanted to grow within the food and beverage market by 8% by establishing a content story using various touch points throughout the user's journey.
Procurement: Reduce materials costs and meet company's standards

Operations: Increase productivity and efficiency

Engineering & Brand Owners: Ensure product quality control and brand equity
Solution
The answer to help this industry is through packaging. But not any packaging, the right combination of packaging products and services that Veritiv can offer.
Through research and establishing a content framework, we weaved various touch points throughout the customer's journey to provide answers to their pain points. From a website experience and thought leadership content to marketing materials and campaigns.
Bring awareness to the industry
Researched SEO and keywords to increase organic search

Established content hierarchy for webpage based on research

Created thought leadership content geared towards pain points

Launched pay-per-click campaigns targeted towards sub-segments
Equip sales with conversion tools for sub-segment
Launched a sales email campaign to enroll contacts to encourage conversations

Executed focused marketing materials specific to food industry sub-segments

Established cadenced internal food huddle groups to increase collaboration, training and success sharing
Tools
Pencil & Paper

Adobe XD

Ceros

Drupal

Marketo

Illustrator

InDesign

Photoshop
Team
1 Creative Lead

2 Graphic Designers

2 Copywriters

1 Developer

1 Project Manager

1 Marketing Manager

1 Marketing Automation Manager

1 External Agency
My Role
Creative Lead

Creative Strategist
Timeline
3 Month Duration

Launch February 2022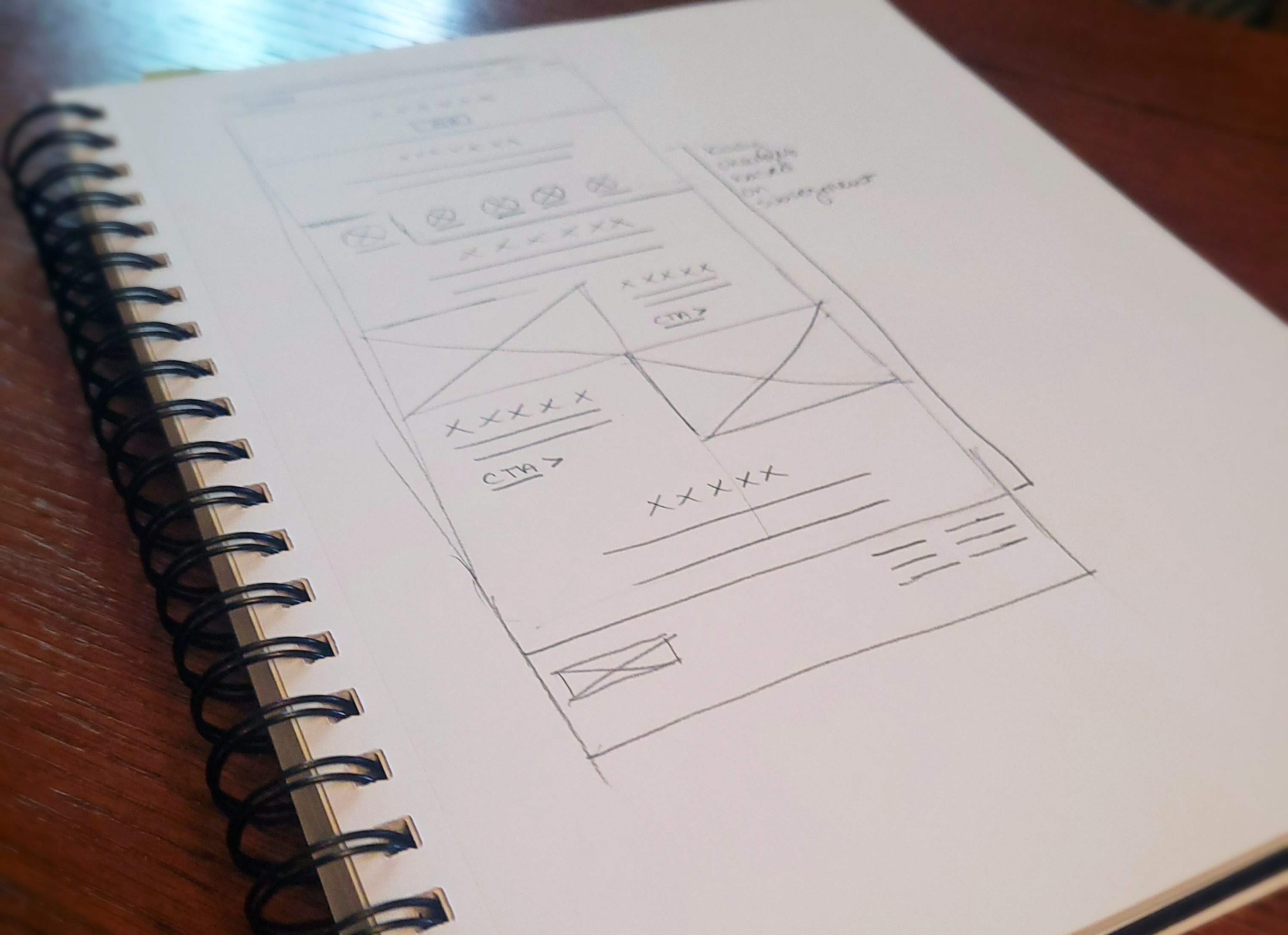 Phase 1: Content Audit & Webpage
To kick off phase 1, we audited our current assets to evaluate our gaps and needs to meet the problem.
Once we assessed, we started to refresh the food packaging webpage as it was the most visible.
Initially, the plan was to add a new webpage for each sub-segment.
Concerned about the negative impact on SEO from overlapping copy, I recommended an alternative one-page concept一use a tab design pattern to reduce the need for multiple pages with repeating copy and imagery.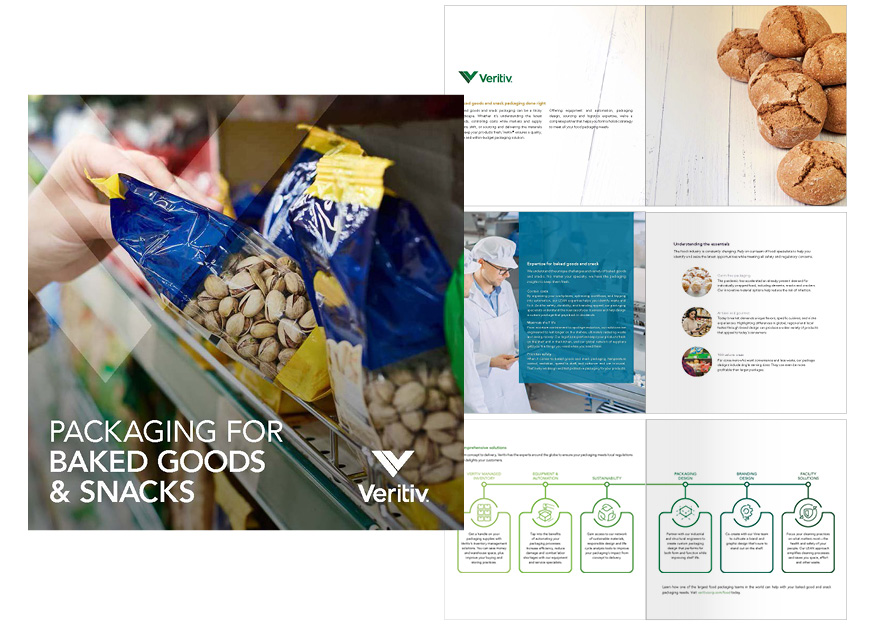 Phase 2: Pillar Content Materials
Next, pillar content was developed to create a foundation of materials for sales, campaigns and SEO.
Five sub-segment brochures

1-page flier

Sales presentation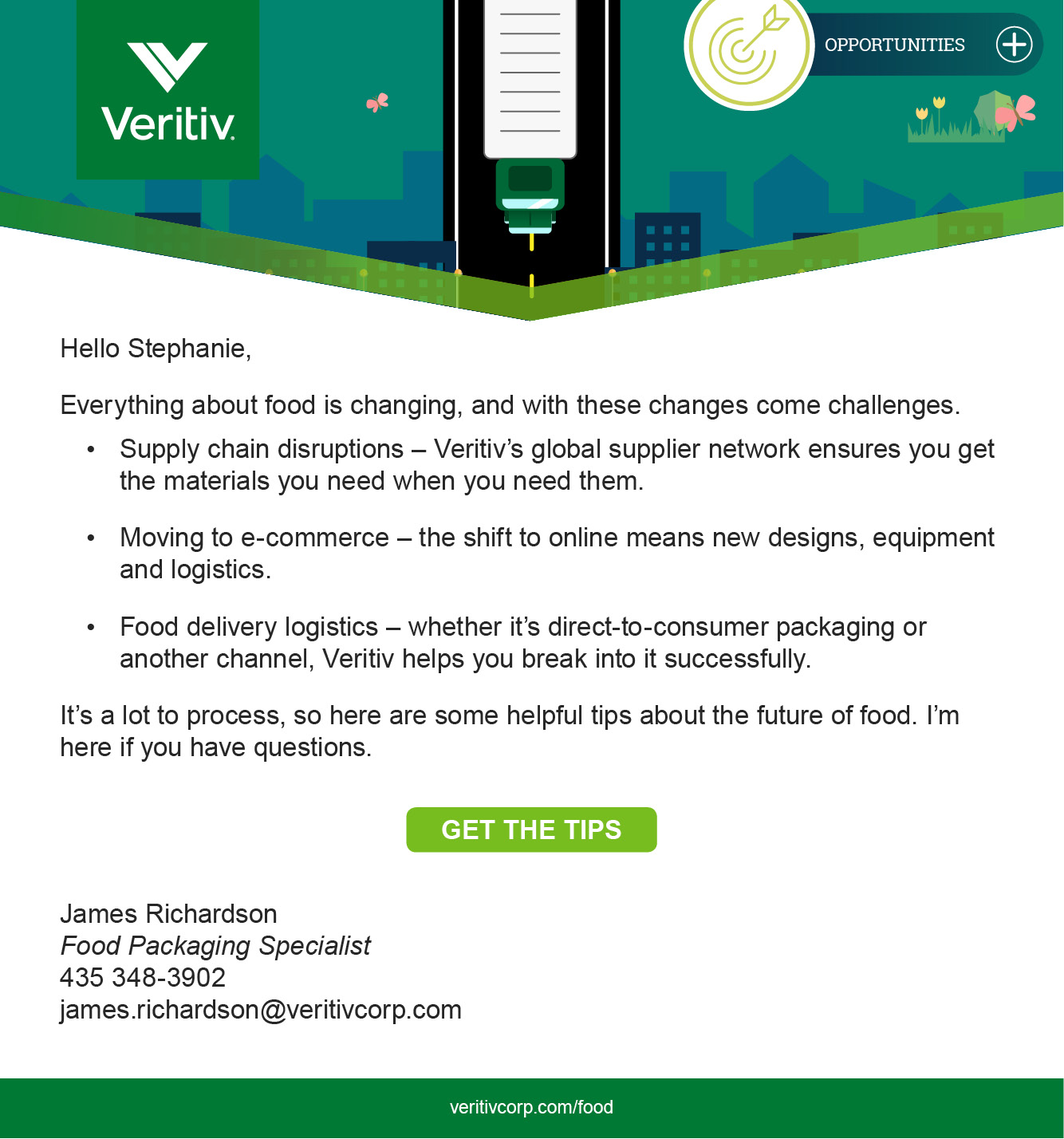 Phase 3: Campaign
Sales was equipped with a campaign to enroll selected contacts to receive a four-part automated email series. Topics used pillar pieces from phase 2 to encourage engagement from the audience.
After its February 2022 launch, the food packaging campaign was linked to almost $1.5 million in opportunities in 10 months.
Many 2023 initiatives will significantly affect this campaign including a new digital commerce experience launch, brand refresh and customer journey mapping experience
~20k
Page Visits since Feb '22
x2
Translated into 2 Languages, Versioned for 2 Countries
Next steps
There are many opportunities in 2023 to re-evaluate the current with Veritiv's new initiatives.
Condense even more the overlapping sub-segment content

Expand thought leadership efforts to increase organic search

Set up a regular cadence plan for evaluation and improvement based on newly acquired Adobe Analytics

Establish action plan based on customer journey mapping insights